Welcome to Clarus Museum.

facebook page
The Clarus Museum is proud to show you the most complete collection of "Clarus, the Dogcow" items.
Warning : If you're not a macintosh geek, this site will be probably very boring for you, sorry.
What is "Clarus, the Dogcow" ?

Clarus in "Page set-up dialog"
Clarus was the Apple Developer Technical Support mascot from 1986 to 2004.
Definitions (from Jargon Dictionnary)
dogcow /dog'kow/ /n./ The dogcow is a semi-legendary creature that lurks in the depths of the Macintosh Technical Notes Hypercard stack V3.1. The full story of the dogcow is told in technical note #31 (the particular dogcow illustrated is properly named `Clarus'). A dogcow also appears if you choose `Page Setup...' with a LaserWriter selected and click on the `Options' button.
See our History section for details.
Listen to Clarus :
What is "Clarus Museum" ?
The Museum aggregate "Clarus, the Dogcow" history and all related items (pictures, sounds, movies, data or references) in one virtual place.
Clarus was part of geek culture and many items can not be found today, specially those in Apple Labs.
The Museum bring you a comprehensive Clarus History.
You can browse our Collections (items were grouped by theme) or examine our Gallery.
If you have questions, read the FAQ first, then moof!
What can be found ?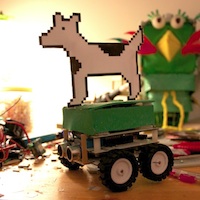 The Museum share items from its collections and got some very rare Clarus appareance :
Copyright© and Trademarks™

The Museum contain many pictures, icons, movies, sounds... stored for many years now (since 1998).
All those multimedia contains are often copyrighted, we use them to keep an aggregate and safe collection. We all know internet has no memory, sites came and die.
Many items we found years ago are now not available on the net. Our purpose is not to steal artwork, we cite the original author and link to the original place when it's possible.
We try to be fair, and we do not make any money or advantage with those materials. It only computer culture and history.
If you find something you own and you don't want the museum to show it, tell us. We'll remove it, and we'll be sad.
Contribute
The Museum keep trying to improve and adding more items to the collection.
If you own or create sometime, or if you know historical precision related to Clarus or just need to moof! : contact us
Don't forget to sign the petition "Save our Dogcow" to ask Apple Inc to bring back Clarus in MacOS X.

Moof!
Acknowlegment
They bring new items to the Museum :
Susan Kare, Feorag NicBhride, Nick Chinn, Joseph J. Strout,
Frédéric Kerbrat, Anders Jonsson, Byron Han, Jean-Denis Muys-Vasovic,
Florian.
Thanks to the Wayback Machine that let us explore old web site and retrieve material.
moof!