Collection : Clarus from Apple Inc. Labs (official objects)
For WWDC'88 (World Wide Developer Conference, 1988), some engineer distributes items related with Clarus at the Debugging session.
This was the only objects produced by Apple with Clarus. We keep a seperate collection with other objects licence outside Apple or home-made one.

1988
Moof! on shirts
Author: Apple Inc. - 1988
Clarus appears on an Apple T-Shirt distributed for the debugging session at WWDC'88.
It was design from the original Cairo font (Susan Kare 1983).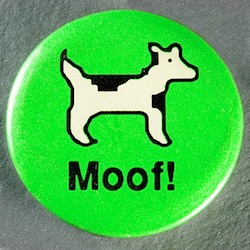 1988
Moof! badge
Author: Apple Inc. - 1988
Nom : Moof! badge
Official Moof badge, distribute by Apple to Macintosh developpers in the Debugging Lab during WWDC'88.
This badge was also wore by John Sculley (CEO) during his keynote.
Standard version has a green background (inspired by Moutain Dew bottle color) but some has been realeased for Japan with red background.
This button badge is insteresting because Clarus looks at right (standard representations looks at left) and she's not pixelized, the graphics has been smoothed.

Note : you can inspect a very detailedl picture made by TidBits on 2002 to test the ProScope camera.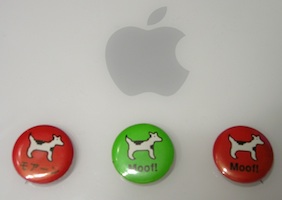 Moof! badges
Author: Apple Inc. - 1988
Nom : Moof! badges
Beside the official WWDC'88 green badge, Apple release some variations, including a japanese red one.
Wil Lapointe send us a picture of its own collection.
Moof Bräu
Author: Southern California Brewing Company - 1996
Source : Social Brewing (archive.org) & uninorth13 (flickr)
This was a real beer made for WWDC 1996.
Social Brewing has a section to present labels from Southern California brewing compagny.
One label is MoofBräu lager beer, with Clarus on it.
You could recognize the MoofBrau that was present in one of the first QuickTIme VR movie made inside Apple Labs in the first QTVR movie.
Anna also presents photos of 2 moofbräu bottle that came from WWDC 1996, enjoy !
RetroMac Cast : in the 279 episode, James and Jim discuss about collectibles : one is "Moof Bräu" found on ebay !