Foley & Associates
Author: Foley & Associates - 1996
Source : Foley & Associates
Foley & Associates compagny made a page to demo QTVR capability in 1996, using dogcow QTVR from Apple Labs.
In 2014 the page is still there and perfectly working, thanks to Clarus.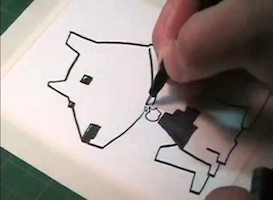 Apple, DogCow
Author: Len Peralta - 2007
Source : Len Peralta (youtube)
"Another installment in the Monster By Mail Art project. The theme for this round is "Cryptozoology". Want your own Monster by Mail? Visit http://www.monsterbymail.com. An original hand drawn monster sketch delivered to your doorstep!
All proceeds from this project go to pay for medical expenses related to the birth of our new baby in the fall.
Music is "Empty Bottle Blues" by They Might Be Giants"
Also check our "Digital Art collection" with the beautiful final drawing.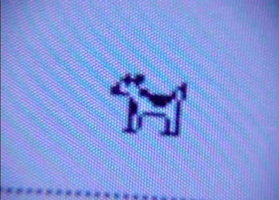 Moof, the action video
Author: GreatGugliMugli - 2009
Source : GreatGugliMugli (youtube)
"Whilst creating a disk image (of WorldBook, part of the iMac installation software of 1998) with DiskCopy 6.3.3, there was this wonderful performance of Moof."
Check DiskCopy entry in our "Apple software collection"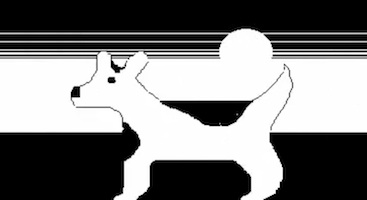 Clarus, the Dogcow
Author: Toastline - 2010
Source : Toastline (youtube)
"Clarus was a silly thingy in early Mac OSes. This video was an easter-egg thing.
You can look her up; I'm not going to explain it.
But now you know what sound a dogcow makes ("moof!")"
This is a short video mixing Clarus with a classic background from older Macintosh System.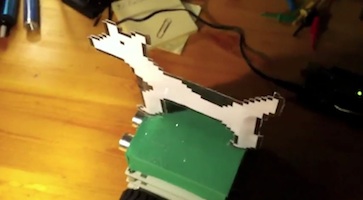 Dogcow iPad control
Author: Erin RobotGrll - 2011
Source : erin (youtube)
Erin demo its Dogcow robot controlled wireless via an iPad...
We have a complete entry for this robot in our "Home made collection"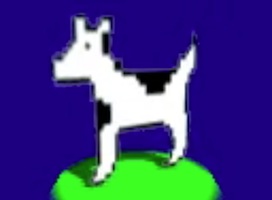 Poma ads
Author: Sparmtacus - 2012
Source : sparmtacus (youtube)
This is the Apple's QTVR from 1996 remixed into a classic movie.
Check the original in our Apple multimedia collection.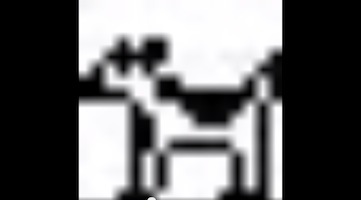 Dogcow
Author: 87fun - 2012
Source : 87fun (youtube)
87fun made a very short movie from the animated cursor of diskcopy.